Malware is contagious! Whether you're headed home for the holidays or taking a trip around the world, don't forget to mask up your mobile devices while you're on the move. To help you keep your information secure, we asked privacy expert Christina Glabas to share her top 5 data protection tips for travelers.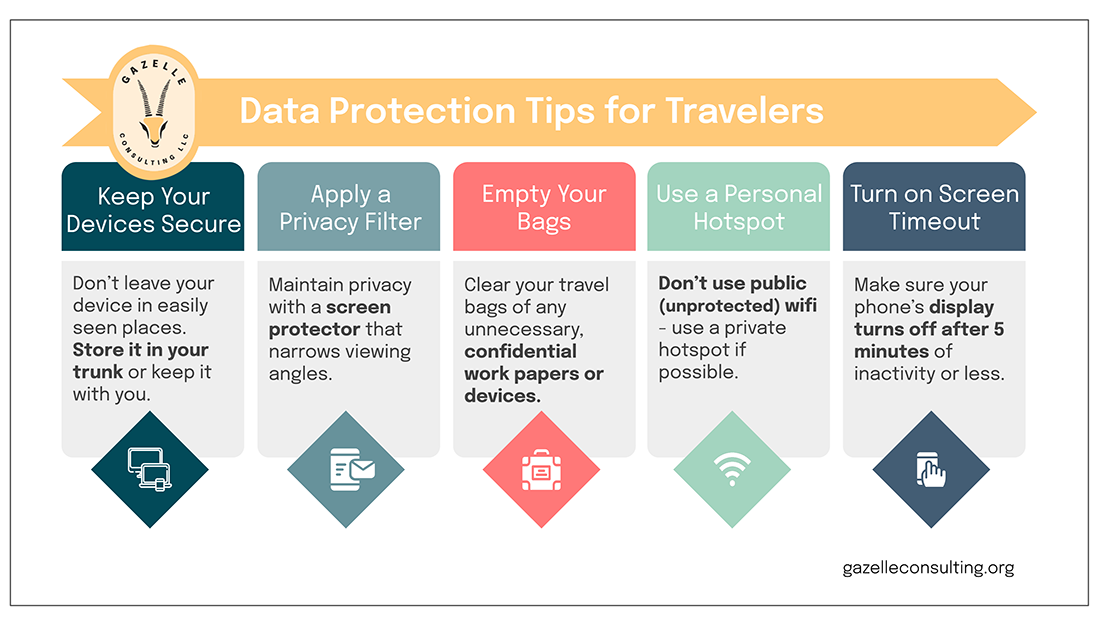 Keep Your Devices Secure
Don't leave your device in easily seen places. Store it in your trunk or keep it with you.
Apply a Privacy Filter
Even when you're actively using your device, there's still a risk that others can gain access to your information – including your PIN or passwords – by engaging in "visual hacking" (or, in layman's terms, "looking"). Maintain your privacy with a screen protector that narrows viewing angles.
Empty Your Bags
Clear your travel bags of any unnecessary, confidential work papers or devices. If you need to bring confidential papers or devices with you, bring a locked travel bag and only unlock it when needed. And make sure you keep track of the key!
Use a Personal Hotspot
Don't use public (unprotected) WiFi – use a private hotspot if possible. You can use your phone's cellular data to create a private hotspot (on Apple or Android devices), or you can buy an external WiFi hotspot which you can then connect to your devices.
Turn on Screen Timeout
Make sure your phone's display turns off after 5 minutes of inactivity or less.
For more expert advice, check out The Four Privacy Practices I Live By: A Data Privacy Expert Shares Her Tips.
Do you have a question about how to safeguard your or your clients' personal data during travel? Do you need guidance or training on your general data security practices? Contact us for a free consultation to see if Gazelle Consulting's customized compliance services are right for you.